In 1999, Urs Hölzle joined Google as one of its first 10 employees and the first vice president of engineering. Twenty-one years later, he serves as the senior vice president for technical infrastructure and oversees the design, installation, and operation of the servers, networks, and data centers that power Google's services.
In sum, he is the person in charge of making all of Google's wares available to developers around the world via Google Cloud.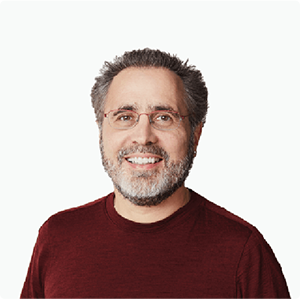 Hölzle is one of few people so intimately familiar with Google's infrastructure and how it has evolved through the years to become one of the world's largest computing systems.
While his roots are in Switzerland, Hölzle received his Ph.D. from Stanford, where he invented the fundamental techniques that are used in most of today's leading Java compilers. He established himself as a professor of computer science at the University of California, Santa Barbara, before joining Google and beginning his most notable work: downloading and indexing the entire world wide web and serving it up as the ubiquitous search engine we know today.
Urs Hölzle: Looking Inward to Plan Forward
When Hölzle began his tenure, he and his team were tasked with engineering the computer infrastructure for Google's search engine on what he's referred to as "not very much money." Of that experience, he has said: "That was 18 years of hard work." But it's that hard work that led to further innovation.
What started off as a focus on an individual server has led to one of the largest networks of servers as well as very efficient data centers. In fact, Hölzle and his team have reduced the energy used by Google data centers to less than 50% of the industry average.
Hölzle has commented that he sees Google as any other large company. "We have IT systems. We have security problems. We have compliance problems. We have HR systems…. We look at other companies really as companies that struggle with the same problems that we have struggled with." It makes sense, then, that because Google has had the same types of problems, it is in a better position to help solve those problems. "All of these things are things that actually any 50,000-person company has, and a subset of those are things that a 1,000-person company has."
In his most current role, Hölzle works to ensure that all those who rely on Google's servers, networks, and data centers have access, and that Google's infrastructure can hold all of it up.
The Tech Guru Aims for New Heights
Much of Hölzle's attention these days is on making Google's technical infrastructure available to developers around the world through Google Cloud. In 2018, he wrote about the important goal of Internet companies to offer services that can be accessed by hundreds of millions of users--no matter where they are.
"Through the years, we've worked hard to continually improve how we serve users in all corners of the world," he wrote at the time. "From an infrastructure perspective, this has meant focusing on how best to route data securely, balance processing loads and storage needs, and prevent data loss, corruption, and outages."
Earlier this year, he wrote another article focused on keeping the Google network infrastructure strong amid COVID-19. He noted, "This may be a time of global uncertainty, but we're working hard to ensure the Google network is there for everyone, business or consumer, day and night."
Hölzle has made no secret about his views on the future of Google Cloud: "For the cloud to take over the world, it needs to make everyone successful." It's not just a product but rather an ecosystem where open source creates the standard, he contends. "With open source, you have a way to have a standard because everyone uses the same piece of code… but at the same time, you can evolve and move the ecosystem forward."
The Upcoming Revolution in Cloud
In his recent keynote address during Google Next 2020, Hölzle discussed what's next in enterprise IT. He noted two key things: first, that enterprise innovation can catch up to the rate of consumer innovation, but only if the enterprise adopts an always up-to-date software stack that works across any cloud, as well as on premise and on the edge; and second, that Google Anthos is exactly that.
"Anthos is as safe and as clear a choice as back when choosing Linux, because it runs everywhere," he said during his keynote. "It's based on open source and communities, and everything will run on top of that." He added, "The beauty of Anthos is that it doesn't try to do too much. It standardizes the things that should not be different."
When asked about his thoughts on what is missing from the cloud today, Hölzle suggested, "a lot." Hölzle believes the cloud is still at its infancy, and there is still much more work to do. For example, he compared the cloud we know today to the first smartphone made available to the masses. "It's like trying to imagine a phone right now without the app store. I predict in 2025, we'll really be embarrassed about the cloud of 2020."
"The game changer will be to move away from the idea of having three different clouds we need to pick from," he added. "Anthos combined with Kubernetes gives you open standards and flexibility. From there, you can mix and match and adopt the things that work best for you." He added, "That is really what the next big revolution in the cloud will be."
Make sure to register for the next Rockstar Conversation with Urs Hölzle, taking place on Oct. 8. You can reserve your spot here. Don't delay—spots are limited.